The Juvenile Justice and Welfare Council (JJWC) greatly appreciates Valenzuela City in its efforts to fully implement the Juvenile Justice and Welfare Act while it enforces protective measures to prevent and mitigate the risks of Covid-19 transmission.
In the JJWC Webinar entitled "Implementing the Juvenile Justice Law in the Context of COVID-19 Pandemic: Webinar for Duty-Bearers" broadcasted on May 29, 2020, Ms. Maria Kristina C. Ramos, Center Head of Valenzuela City Child Protection Center and Ms. Maria Lourdes M. Gardoce, Head of Valenzuela Bahay Pag-Asa (BPA) shared their city's implementation of the JJWA during community quarantine in the context of COVID-19 Pandemic.
Children Protection Center
The City of Valenzuela has a Child Protection Center (CPC), that processes children in need of special protection including children in conflict with the law (CICL). It is a one-stop-shop that has a multi-disciplinary team composed of social workers, nurses, psychometrician, doctor, and police investigator.
During this pandemic, CPC observes the following protective measures to ensure the safety of its clients and partners:
Having a designated waiting area in an open space beside CPC
Having nurses designated prior to the entry to the center to request children and their guardian to answer the basic COVID-19 questionnaire and to check their temperature
Wearing of protective face mask and/or shield of center staff
Placement of visual cues and/or safety reminders
Placement of foot bath
Providing alcohol/sanitizers
Purchasing of thermal scanner and thermometer
Designating an interview area with acrylic barriers, in cases that an interview with a client is necessary
Limiting the face-to-face interviews, i.e. initial talks are made through telephone and video calls from partners
Placing new clients in a temporary quarantine facility in a partnership with a private sector instead of bringing them directly to Bahay Pag-Asa (BPA); and
Administering test to clients for COVID-19, prior to the transfer to the BPA. Clients with positive results will be transferred to an isolation facility for monitoring.
The New Normal
With the new normal, the local government of Valenzuela strategized more ways to continually operate and serve their clients.
It is maximizing the community-based diversion to avoid unnecessary institutionalization of children; it is also using barangay facilities for conferences, where there are health stations staffed by health personnel and barangay council for the protection of children (BCPC) workers.
For the period of the enhanced community quarantine (ECQ)/modified enhanced community quarantine (MECQ) among its interventions are: a 24/7 open line of communication to families and BCPCs for telephone counselling and coaching; visitation of BCPC to children instead of the children reporting to the barangays or CPC; and conduct of virtual inquest and hearings.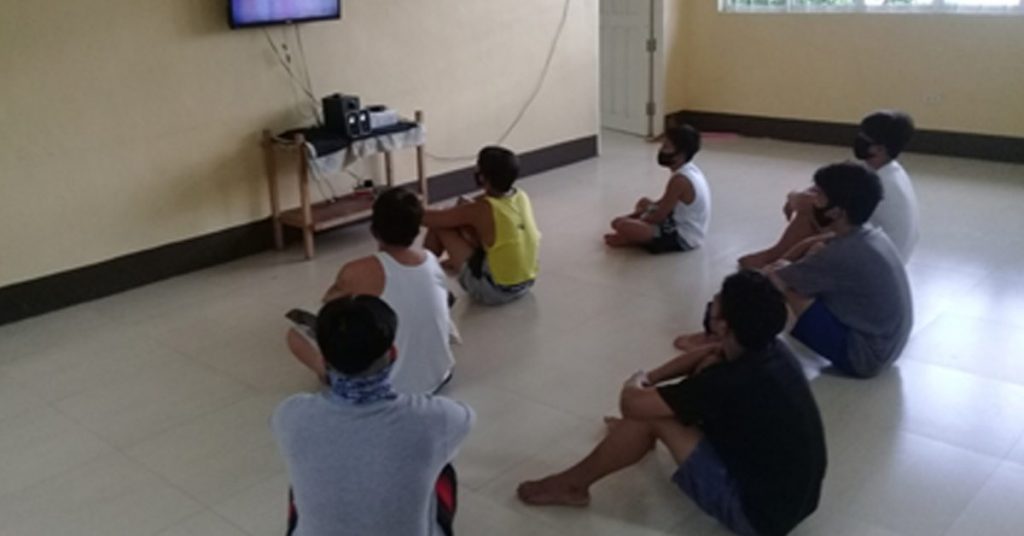 COVID-19 free Bahay Pag-Asa
LGU Valenzuela also stepped up the safety measures in its BPA.
Among those measures are:
Isolation for 14 days of the new transferred client to BPA
Issuance of a City Executive Order prohibiting visitation to BPA until Valenzuela City is place under General Community Quarantine
Orientation to all residents and their parents on COVID-19 and social preparation on the No Visitor Policy, prior to the ECQ
Allowing residents to communicate with their parents/guardians through sending messages and phone or video call
Conducting of health teaching sessions to BPA residents on the updates on COVID-19 and its prevention by nurses
Observing frequent physical hygiene to include hand washing, wearing of face masks, and practicing social distancing; and
Conducting regular health check and provision of vitamins to children by center physician and nurses
It has also set safety measures for its BPA staff. These include skeleton work force; provision of service vehicle, use of face masks and face shields; availability of personal protective equipment and other medical supplies, and regular staff health check.
The BPA facilities are also being disinfected on a regular basis.
The JJWC urges other Bahay Pag-Asa's, youth care facilities and rehabilitation centers to replicate if applicable the promising practices of protecting children's rights in context of managing and mitigating the risks of the COVID-19.
For the full video of the webinar, visit JJWC's Official Facebook Page (https://www.facebook.com/JJWCOfficial).